Who was Phyllis Wheatley? She was an African-American who was a slave but taught to read and write and showed a natural gift toward poetry. According to Wikipedia, she was born in West Africa, enslaved at about seven or eight, brought to the colonies where she was sold to the Wheatley family in Boston. This was quite fortunate (not the enslavement, but being sold to the Wheatley family) in that she was taught to read and write, and once showing talent in poetry was encouraged. Phyllis Wheatley was the first African-American to publish a book, titled, Poems on Various Subjects. Her masters even took her to London, which must have been a great experience for her.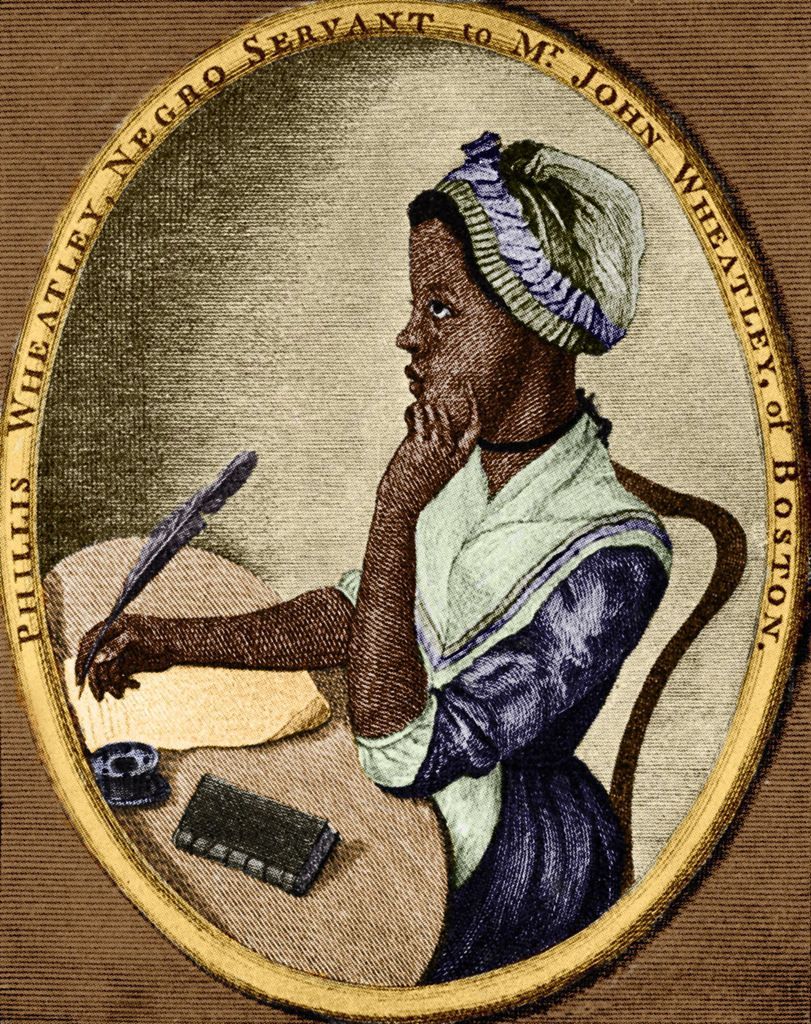 PoetryFoundation also has a fuller biography (read this one if you're only going to read one) and a brief analysis of her poetic style.
Poems on Various Subjects revealed that Wheatley's favorite poetic form was the couplet, both iambic pentameter and heroic. More than one-third of her canon is composed of elegies, poems on the deaths of noted persons, friends, or even strangers whose loved ones employed the poet. The poems that best demonstrate her abilities and are most often questioned by detractors are those that employ classical themes as well as techniques.
Upon publication of her book, she was freed and went on to live a difficult and relatively short life. But her life did overlap the beginning of the Revolutionary War and she wrote this one poem in praise of George Washington, the Commanding General of the Continental Army. I think it's worth reading today on the Fourth of July, 2022. This poem fits right into Poetry Foundation's analysis.
His Excellency General Washington
Phillis Wheatley (1753-1784)
Celestial choir! enthron'd in realms of light,
Columbia's scenes of glorious toils I write.
While freedom's cause her anxious breast alarms,
She flashes dreadful in refulgent arms.
See mother earth her offspring's fate bemoan,
And nations gaze at scenes before unknown!
See the bright beams of heaven's revolving light
Involved in sorrows and the veil of night!
The Goddess comes, she moves divinely fair,
Olive and laurel binds Her golden hair:
Wherever shines this native of the skies,
Unnumber'd charms and recent graces rise.
Muse! Bow propitious while my pen relates
How pour her armies through a thousand gates,
As when Eolus heaven's fair face deforms,
Enwrapp'd in tempest and a night of storms;
Astonish'd ocean feels the wild uproar,
The refluent surges beat the sounding shore;
Or think as leaves in Autumn's golden reign,
Such, and so many, moves the warrior's train.
In bright array they seek the work of war,
Where high unfurl'd the ensign waves in air.
Shall I to Washington their praise recite?
Enough thou know'st them in the fields of fight.
Thee, first in peace and honors—we demand
The grace and glory of thy martial band.
Fam'd for thy valour, for thy virtues more,
Hear every tongue thy guardian aid implore!
One century scarce perform'd its destined round,
When Gallic powers Columbia's fury found;
And so may you, whoever dares disgrace
The land of freedom's heaven-defended race!
Fix'd are the eyes of nations on the scales,
For in their hopes Columbia's arm prevails.
Anon Britannia droops the pensive head,
While round increase the rising hills of dead.
Ah! Cruel blindness to Columbia's state!
Lament thy thirst of boundless power too late.
Proceed, great chief, with virtue on thy side,
Thy ev'ry action let the Goddess guide.
A crown, a mansion, and a throne that shine,
With gold unfading, WASHINGTON! Be thine.
You can hear the poem read if you prefer here.
I'm not a fan of 18th century poetry but this is as good as most of that era. Though educated, I can't imagine she was sent to prominent teachers and had a disciplined education. She probably read a lot on her own and was self-taught. She seems like a wonderful woman. If I had the time I would love to read more about her. She needs to be better remembered. God bless her.
This short biographical video captures her story.
Happy Independence Day!