This is not one of the famous novels that Leo Tolstoy produced, but it's a fine novel nonetheless.

The novel
centers around the character Dmitri Olenin, a young Russian from Moscow, as he enters the exotic world of the rough and rugged people from the Caucuses part of Russia called Cossacks.

Supposedly the novel has an element of the biographical, though it's hard to say what exactly is autobiographical.

Apparently Tolstoy
spent some time in the Caucuses, but Olenin is not exactly the type of hero that would reflect well on the author.

The novel was published in 1863, when Tolstoy was thirty-five years old, but Tolstoy had started writing the novel in 1852.

The novel underwent several revisions, including a substantial one.

Perhaps Olenin's naiveté and lack of courage was Tolstoy looking back at himself as a younger man, or perhaps the novel started from a more direct biographical stance but under revision Tolstoy felt the central character required a more stark contrast to the Cossack men.

Whatever the autobiography might be, the Olenin character as a sort of green, spoiled, insecure, and immature youth contrasted to the confident, assertive, and natural Cossack men and woman is a stroke of genius.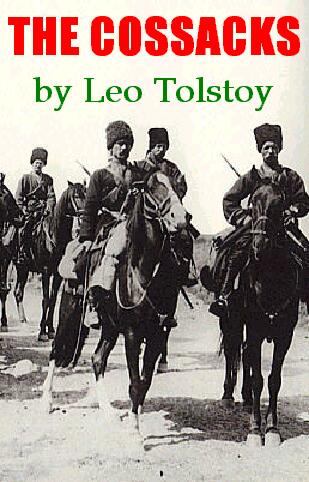 Let's spend some time understanding Olenin's character since it's at the crux of the story.

The novel starts in Moscow with Olenin having made the dramatic decision to enter the military and go off to the Caucuses.

That is like a New Yorker from the early 19

th

century deciding to enter the cavalry and live among the Apache Indians.

It's not only of another culture, another world, but it's going from a life of comfort and sophistication to one of living elementary.

Here Olenin, referred to here as "the traveler" is traveling with a few of his companions to a departure point.
'Now I can speak out fully,' said the traveller. 'I don't want to defend myself, but I should like you at least to understand me as I understand myself, and not look at the matter superficially. You say I have treated her badly,' he continued, addressing the man with the kindly eyes who was watching him.
'Yes, you are to blame,' said the latter, and his look seemed to express still more kindliness and weariness.
'I know why you say that,' rejoined the one who was leaving. 'To be loved is in your opinion as great a happiness as to love, and if a man obtains it, it is enough for his whole life.'
'Yes, quite enough, my dear fellow, more than enough!' confirmed the plain little man, opening and shutting his eyes.
'But why shouldn't the man love too?' said the traveller thoughtfully, looking at his friend with something like pity. 'Why shouldn't one love? Because love doesn't come ... No, to be beloved is a misfortune. It is a misfortune to feel guilty because you do not give something you cannot give. O my God!' he added, with a gesture of his arm. 'If it all happened reasonably, and not all topsy-turvy--not in our way but in a way of its own! Why, it's as if I had stolen that love! You think so too, don't deny it. You must think so. But will you believe it, of all the horrid and stupid things I have found time to do in my life--and there are many--this is one I do not and cannot repent of. Neither at the beginning nor afterwards did I lie to myself or to her. It seemed to me that I had at last fallen in love, but then I saw that it was an involuntary falsehood, and that that was not the way to love, and I could not go on, but she did. Am I to blame that I couldn't? What was I to do?'
'Well, it's ended now!' said his friend, lighting a cigar to master his sleepiness. 'The fact is that you have not yet loved and do not know what love is.'
The man in the fur-lined coat was going to speak again, and put his hands to his head, but could not express what he wanted to say. [Chpt 1]
We see he has broken up with a woman, an affair that seems to have ended badly.

He thought he was in love, but came to the awareness that he wasn't.

Well, that's sort of adolescent.

That he concludes love isn't even important reveals a sort of an overly intellectual childishness.

His friend points out that Olenin doesn't even know what love is.

What is also striking on how Tolstoy ends that exchange is that Olinen, hands somewhat flailing up, "could not express what he wanted to say."

On the surface that's again suggestive of his adolescence, but it's also symbolic.

What we'll see in the novel is that Olenin fails to complete goals, fails to consummate actions, and remains a vicarious standby as the rugged men live life.
Olenin was a youth who had never completed his university course, never served anywhere (having only a nominal post in some government office or other), who had squandered half his fortune and had reached the age of twenty-four without having done anything or even chosen a career. He was what in Moscow society is termed un jeune homme.
At the age of eighteen he was free--as only rich young Russians in the 'forties who had lost their parents at an early age could be. Neither physical nor moral fetters of any kind existed for him; he could do as he liked, lacking nothing and bound by nothing. Neither relatives, nor fatherland, nor religion, nor wants, existed for him. He believed in nothing and admitted nothing. But although he believed in nothing he was not a morose or blase young man, nor self-opinionated, but on the contrary continually let himself be carried away. He had come to the conclusion that there is no such thing as love, yet his heart always overflowed in the presence of any young and attractive woman. He had long been aware that honours and position were nonsense, yet involuntarily he felt pleased when at a ball Prince Sergius came up and spoke to him affably. But he yielded to his impulses only in so far as they did not limit his freedom. As soon as he had yielded to any influence and became conscious of its leading on to labour and struggle, he instinctively hastened to free himself from the feeling or activity into which he was being drawn and to regain his freedom. In this way he experimented with society-life, the civil service, farming, music--to which at one time he intended to devote his life--and even with the love of women in which he did not believe. He meditated on the use to which he should devote that power of youth which is granted to man only once in a lifetime: that force which gives a man the power of making himself, or even--as it seemed to him--of making the universe, into anything he wishes: should it be to art, to science, to love of woman, or to practical activities? It is true that some people are devoid of this impulse, and on entering life at once place their necks under the first yoke that offers itself and honestly labour under it for the rest of their lives. But Olenin was too strongly conscious of the presence of that all-powerful God of Youth--of that capacity to be entirely transformed into an aspiration or idea--the capacity to wish and to do--to throw oneself headlong into a bottomless abyss without knowing why or wherefore. He bore this consciousness within himself, was proud of it and, without knowing it, was happy in that consciousness. Up to that time he had loved only himself, and could not help loving himself, for he expected nothing but good of himself and had not yet had time to be disillusioned. On leaving Moscow he was in that happy state of mind in which a young man, conscious of past mistakes, suddenly says to himself, 'That was not the real thing.' All that had gone before was accidental and unimportant. Till then he had not really tried to live, but now with his departure from Moscow a new life was beginning--a life in which there would be no mistakes, no remorse, and certainly nothing but happiness.

[Chpt 2]
What is clear in that expository passage is that Olenin has lots of wishes, attempts many things, but never finishes anything, never accomplishes anything.

Every activity will be a new beginning, every new endeavor will bring certain happiness.

My goodness, he expects a life of no mistakes or remorse.
Olenin's journey to the Caucuses is important.

An author makes many choices as he tells the story, especially the framing of the story.

Tolstoy could have started the story with Olenin already immersed in the Cossack culture.

But Tolstoy shows Olenin departing, breaking away from his friends, and physically being transferred into a different world.

This is a tale imbued with values of the Romantic movement, the idealization of the primitive over the civilized.

Little by little Olenin notices the increasing wildness of the places he passes by, so that he is moving toward the heart of the elemental.
The farther Olenin travelled from Central Russia the farther he left his memories behind, and the nearer he drew to the Caucasus the lighter his heart became. "I'll stay away for good and never return to show myself in society," was a thought that sometimes occurred to him. "These people whom I see here are NOT people. None of them know me and none of them can ever enter the Moscow society I was in or find out about my past. And no one in that society will ever know what I am doing, living among these people." And quite a new feeling of freedom from his whole past came over him among the rough beings he met on the road whom he did not consider to be PEOPLE in the sense that his Moscow acquaintances were. The rougher the people and the fewer the signs of civilization the freer he felt. Stavropol, through which he had to pass, irked him. The signboards, some of them even in French, ladies in carriages, cabs in the marketplace, and a gentleman wearing a fur cloak and tall hat who was walking along the boulevard and staring at the passersby, quite upset him. "Perhaps these people know some of my acquaintances," he thought; and the club, his tailor, cards, society ... came back to his mind. But after Stavropol everything was satisfactory--wild and also beautiful and warlike, and Olenin felt happier and happier. All the Cossacks, post-boys, and post-station masters seemed to him simple folk with whom he could jest and converse simply, without having to consider to what class they belonged. They all belonged to the human race which, without his thinking about it, all appeared dear to Olenin, and they all treated him in a friendly way.

[Chpt 3]
And finally Olenin reaches his destination, the very heart of Cossackdom, where life is composed of farming, fishing, hunting, and war.
Novomlinsk village was considered the very heart of Grebensk Cossackdom. In it more than elsewhere the customs of the old Grebensk population have been preserved, and its women have from time immemorial been renowned all over the Caucasus for their beauty. A Cossack's livelihood is derived from vineyards, fruit- gardens, water melon and pumpkin plantations, from fishing, hunting, maize and millet growing, and from war plunder. Novomlinsk village lies about two and a half miles away from the Terek, from which it is separated by a dense forest. On one side of the road which runs through the village is the river; on the other, green vineyards and orchards, beyond which are seen the driftsands of the Nogay Steppe. The village is surrounded by earth-banks and prickly bramble hedges, and is entered by tall gates hung between posts and covered with little reed-thatched roofs. Beside them on a wooden gun-carriage stands an unwieldy cannon captured by the Cossacks at some time or other, and which has not been fired for a hundred years. A uniformed Cossack sentinel with dagger and gun sometimes stands, and sometimes does not stand, on guard beside the gates, and sometimes presents arms to a passing officer and sometimes does not. Below the roof of the gateway is written in black letters on a white board: 'Houses 266: male inhabitants 897: female 1012.' The Cossacks' houses are all raised on pillars two and a half feet from the ground. They are carefully thatched with reeds and have large carved gables. If not new they are at least all straight and clean, with high porches of different shapes; and they are not built close together but have ample space around them, and are all picturesquely placed along broad streets and lanes. In front of the large bright windows of many of the houses, beyond the kitchen gardens, dark green poplars and acacias with their delicate pale verdure and scented white blossoms overtop the houses, and beside them grow flaunting yellow sunflowers, creepers, and grape vines. In the broad open square are three shops where drapery, sunflower and pumpkin seeds, locust beans and gingerbreads are sold; and surrounded by a tall fence, loftier and larger than the other houses, stands the Regimental Commander's dwelling with its casement windows, behind a row of tall poplars. Few people are to be seen in the streets of the village on weekdays, especially in summer. The young men are on duty in the cordons or on military expeditions; the old ones are fishing or helping the women in the orchards and gardens. Only the very old, the sick, and the children, remain at home.

[Chpt 4]
The perspective in that passage, which is Olenin's perspective, is that of an anthropologist meeting the aborigines.

Finally I want to present this wonderful passage of one of Olenin's first evenings situated in the Cossack village.
It was one of those wonderful evenings that occur only in the Caucasus. The sun had sunk behind the mountains but it was still light. The evening glow had spread over a third of the sky, and against its brilliancy the dull white immensity of the mountains was sharply defined. The air was rarefied, motionless, and full of sound. The shadow of the mountains reached for several miles over the steppe. The steppe, the opposite side of the river, and the roads, were all deserted. If very occasionally mounted men appeared, the Cossacks in the cordon and the Chechens in their aouls (villages) watched them with surprised curiosity and tried to guess who those questionable men could be. At nightfall people from fear of one another flock to their dwellings, and only birds and beasts fearless of man prowl in those deserted spaces. Talking merrily, the women who have been tying up the vines hurry away from the gardens before sunset. The vineyards, like all the surrounding district, are deserted, but the villages become very animated at that time of the evening. From all sides, walking, riding, or driving in their creaking carts, people move towards the village. Girls with their smocks tucked up and twigs in their hands run chatting merrily to the village gates to meet the cattle that are crowding together in a cloud of dust and mosquitoes which they bring with them from the steppe. The well-fed cows and buffaloes disperse at a run all over the streets and Cossack women in coloured beshmets go to and fro among them. You can hear their merry laughter and shrieks mingling with the lowing of the cattle. There an armed and mounted Cossack, on leave from the cordon, rides up to a hut and, leaning towards the window, knocks. In answer to the knock the handsome head of a young woman appears at the window and you can hear caressing, laughing voices. There a tattered Nogay labourer, with prominent cheekbones, brings a load of reeds from the steppes, turns his creaking cart into the Cossack captain's broad and clean courtyard, and lifts the yoke off the oxen that stand tossing their heads while he and his master shout to one another in Tartar. Past a puddle that reaches nearly across the street, a barefooted Cossack woman with a bundle of firewood on her back makes her laborious way by clinging to the fences, holding her smock high and exposing her white legs. A Cossack returning from shooting calls out in jest: 'Lift it higher, shameless thing!' and points his gun at her. The woman lets down her smock and drops the wood. An old Cossack, returning home from fishing with his trousers tucked up and his hairy grey chest uncovered, has a net across his shoulder containing silvery fish that are still struggling; and to take a short cut climbs over his neighbour's broken fence and gives a tug to his coat which has caught on the fence. There a woman is dragging a dry branch along and from round the corner comes the sound of an axe. Cossack children, spinning their tops wherever there is a smooth place in the street, are shrieking; women are climbing over fences to avoid going round. From every chimney rises the odorous kisyak smoke. From every homestead comes the sound of increased bustle, precursor to the stillness of night.

[Chpt 5]
That is Tolstoy's prose at his best, simple, filled with rich, meaningful detail, and with a sense of movement.