Last week I used my Faith Filled Friday to commemorate All Saints Day, which is on November 1st.

This week I'll commemorate All Souls Day which is on November 2nd.
I'm going to celebrate it with a poem by D. H.Lawrence.

It's not overtly religious, and Lawrence was not a Catholic.

But I think the poem captures extremely well the spirit of All Souls Day.
Now full disclosure.

I did my Master's Thesis on D. H. Lawrence, so I probably know more about this particular writer than just about any.

He only lived to forty-four years old, but he wrote and wrote and wrote.

He published eleven novels, four short novels, several collections of short stories and poetry, scores of essays, travel writings, and other non-fiction, and his collection of written letters amount to seven volumes.

I've read a lot of his works, but I certainly haven't read all or probably even half.
As a poet, he's amazingly underrated.

I think that is so because he's such a

great fiction writer that his poetry gets pushed out of the fore ground.

If he hadn't written fiction he probably would be known as one of England's leading poets of his day.
Between the avenue of cypresses
All in their scarlet capes and surplices
Of linen, go the chaunting choristers,
The priests in gold and black, the villagers.
And all along the path to the cemetery
The round dark heads of men crowd silently;
And the black-scarfed faces of women-folk wistfully
Watch at the banner of death, and the mystery.
And at the foot of a grave a father stands
With sunken head and forgotten, folded hands;
And at the foot of the grave a mother kneels
With pale shut face, nor neither hears nor feels
The coming of the chaunting choristers
Between the avenue of cypresses,
The silence of the many villagers,
The candle-flames beside the surplices.
Lawrence's poetry is categorized as part of the Imagist movement of the early 20th century.

Reducing Imagism down to its essence, one could say that it attempts to create poetry by solely, or at least predominantly, using images to carry meaning, the poet refraining from editorializing or commenting.
This is an excellent example of an imagist poem.

There are four stanzas.

In the first we have this wonderful image of a procession of choristers, priests, and villagers through a lovely backdrop of autumn-colored cypresses.

In the second we see they are heading to a cemetery where apparently someone has died.

At the grave to which one assumes they are proceeding to, a father and mother are in the middle of mourning their loss; apparently their child has died.

In the fourth stanza, the focus is back to the procession, perhaps now come closer, and three of the four lines are nearly identical to those in the first stanza, creating a circular pattern of return.

The final line is unique to the stanza, now bringing in the image of the candle flames beside the surplices.
While this is not overtly religious, it most definitely has a religious core.

The procession is "chaunting" which is an outdated alternative word for religious chant.

There are priests, vestments (surplices), candles, and death is a "mystery."

It is set in nature, and the season is one associated with death.

The pantomime (if I can call it that) is labeled a "service" in the title, and of course that implies a religious ritual.

The poem, then, captures the religious ritual in all its depth and mystery.
I hope you enjoyed the poem.

I also want to dedicate this post to Keith Sagar, who was a D. H. Lawrence scholar.

He wrote many books on Lawrence, several of which I used as support for my Master's Thesis.

Professor Sagar passed away a little over two weeks ago.

Here is his web page.

When you read someone's books, you feel a connection with them, especially when you share a love of the subject.

We both loved D. H. Lawrence's writing.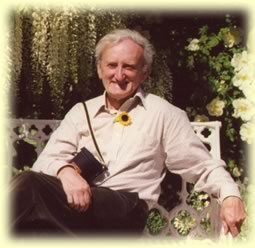 O good Jesus, have mercy on the soul of Keith Sagar and grant to him eternal rest.