Matthew and I were having breakfast. I made him those toaster waffles, you know the Ego Waffles, only these were Aunt Jemima's.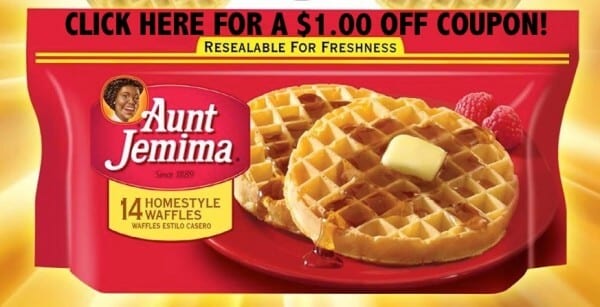 Matthew doesn't like them crispy (no idea why, I prefer them that way) so I've come up with a process where instead of toasting them in a toaster I microwave them for one minute. They are usually soft and yet warm, and instead of maple syrup Matthew prefers chocolate whip cream on top. Matthew at five years old is a slow eater and gets distracted by the newspaper I'm reading on my side of the table, or chattering about any stray thought that comes to his mind. So at almost every meal I have to focus him on eating or drinking, otherwise he'll be at the table forever.
On top of that, he's a fussy eater. I'm like a wolf when I sit down to eat, gulping down everything in ravenous bites. He's like a cat, sampling everything, ordering what he likes to eat best, drinking at intervals to wash down what he doesn't like.
So Sunday morning I'm urging him to eat up and drink his milk, which is also chocolate. I know, he's spoiled. Suddenly he came upon a piece of waffle (I had cut them up into bite size pieces) that had hardened.
"I don't want to eat this one. It's too crunchy."
"There's nothing wrong with it. Take a sip of milk." He was slow at drinking the milk too and he had hardly touched it. So he took a "crunchy" piece of waffle and put it into his mouth. I could see he wasn't chewing it very eagerly. "Take a sip," I repeated.
"And don't tell me," I said, "the milk is too crunchy too."
It took him a second to get the humor of that and when he did his laugh caused chocolate milk to squirt out and dribble down his chin. His first spit laugh.
-------------------------------
For the past few weeks Matthew had been bugging me about having a piece of chewing gum. I didn't think it wise to let a five year old chew gum, so I've said no. He knows I keep a package of sugarless gum in my study. One day this week he told me he's figured out how gum works. I didn't quite understand what he meant.
"You chew it," he explained, "until the flavor runs out and then you spit it out."
"That's right. Where did you learn that?" I figured it was some kid at school. At least he won't swallow it in the future.
"I just thought it and figured it out."
OK. He's a smart kid. A bit later I go into the upstairs bathroom and there on the floor by the little trash can that he obviously missed, was a little red something. I picked it up and it was hardened gum. I shook my head knowing full well that someone just three and a half feet tall chewed a piece gum and tried throwing it away. I tossed the gum in the can, but then I thought better of it and took it out and put it back on the floor.
Later still, when Matthew and I were both upstairs I had him come into the bathroom.
"Matthew, what's that on the floor?"
"Where?"
"By the garbage can."
"This?" And he bends down and picks it up and holds it up. "What is that daddy?"
"Don't you know?" Silence. He says nothing. So I ask, "Isn't that gum?"
"Yeah, that's what it is."
"Well, how did it get there?" Silence. So I volunteered, "Did you take a piece of my gum?"
"Yeah. But I figured out how it works. You chew it until the flavor finishes and then you spit it out."
Sigh.
-------------------------------
It's hard to tell if there's any improvement between Rosie and Matthew. He's not quite as scared of her and most of the time now he fights back when they tangle. Rosie sees him as a play friend, and play to her is to use her mouth. And then he makes a run for it, which only triggers a chase instinct in her. And of course she catches him, and so on.
Here she is giving him a lick.
And playing tug, Matthew trying to be as far from her as possible.
As you can see in the five weeks we've had her, Rosie has really grown. I'd say she's more than doubled.
Here's an interesting tid-bit of information for dog owners I discovered. I was searching around to see if Rosie was on track with her weight. There are a lot of dog weight calculators on the internet and when I put Rosie' information in, they spanned from as low as 48.8 to 82 lbs. Now that's quite a range, which shows you they're not worth much. The one rule of thumb I found more often was that a pup of a medium to large breed at 14 weeks will be about 2.5 times that at one year old. If Rosie is 20 lbs today at under 13 weeks, and she's gaining over two pounds per week, I estimate she'll be 24 lbs at 14 weeks, which will put her at 60 lbs at a year old. That's about right for a Lab.