I haven't had a Matthew Monday in a while, so here are a few items.
(1) Christmas.

Does Matthew love Christmas?

Does a bear discharge in the woods?

In addition to more toys (like he needed more die cast model cars) he got a three wheeled kid's scooter from his Godmother.

It looks something like this except it doesn't have the basket and those strips on the handle bars.

Basket looks geeky anyway.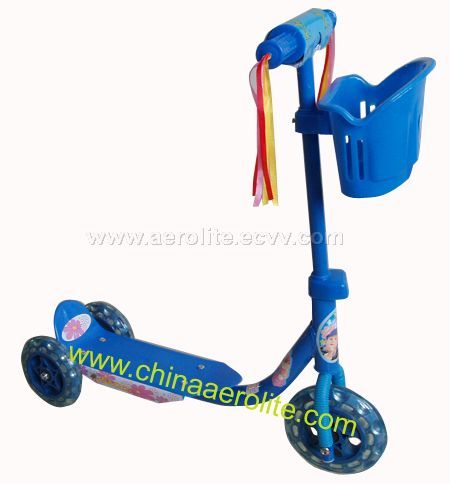 Since he can't ride it outside yet because of the cold he's been "practicing" (as he puts it) in his room and the upstairs hallway.

The noise listening to him from downstairs sounds like he's running over speed bumps at Mach speed.

I may have to just let it vanish until springtime.

Here's a picture of him in front of our Christmas tree.
And then opening a present with his elf hat on.
(2) A day or two after Christmas he woke up in the wee hours of the morning gasping.

My wife woke me up thinking he was choking.

She thought it sounded like he had something stuck in his throat.

I stuck my finger down his throat to make sure (I thought a spider might have crawled in) and there wasn't anything.

Of course that caused him to start crying.

The wheezing really worried us.

So we got dressed and buttoned him up and we drove over to the Emergency Room.

Of course he didn't want to go and was crying that he didn't want any needles.

The triage nurse said he was like the third child in that night with the same symptoms.

Obviously something was going around.

She tried to take his blood pressure and that got him crying again...lol.

Once inside the doctor diagnosed it as "the croup."

I said, "What?

What the heck is that?"

I had never heard of it and thought it might be something serious.

Not too serious.

A viral infection that causes coughing and wheezing.

He's had a mild temperature (99F), runny nose, and a cough.

The ER gave him a steroid drink but nothing else.

He's been out of school for a week but back on Monday.
(3) Then we got nine inches (23 cm) of snow followed by arctic temperatures.

I think we actually got down to 1 degree F (-17C).

Matthew wanted to play in the snow.

We let him just once, after his temperature was normal and before the really bitter cold came in.

Some pictures in the snow.
The snowball was intended for me and he got me while I was shoveling. The little devil.