Dear Readers and Friends
It appears my computer has died. I've been having trouble for almost two weeks, and it appears the RAM memory has gone kooky. Well, that's not a technical diagnostic term. Something in the RAM has gone bad. Since it's about a six year old laptop, if not closer to seven, I'm going to just buy another rather than exploring repair. If I were computer savvy, I bet I could fix it for a little over $100, but not only am I not savvy, I'm basically computer illiterate. So bear with me while I shop around and then figure out how to copy over all my old files. If you're curious I'm on my wife's computer for this note.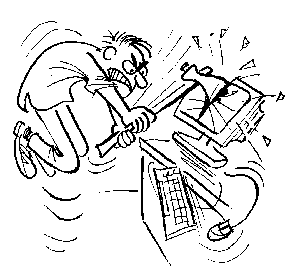 I have to also admit, as it was I have not had the time to be on the computer as I normally do. The culprit is our Lab puppy. My wife has her all ay, and it's not fair for her to have her at night as well. So I've relieved her for part of the evening. To say the least Rosie has been a challenge. We've raised two other pups before--both energetic breeds, a Golden Retriever and another Labrador Retriever--but Rosie takes the cake for the most hyperactive and persistent. I don't mind the hyperactivity so much, but the fact that she persistently continues in her annoying behavior drives us nuts. We can't seem to distract her. And what drives us nuts is her mouthing at our limbs and tugging at our clothes. We hate to crate her as much as we do, but she's locked up frequently.
I'll be back as soon as I can. Happy New Year if it's not before then.